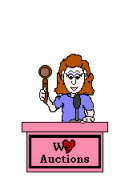 saya suke masuk web
lelong
, sebab dalam tu banyak barang....macam window shopping gak la kan, tapi, tak penat kaki bejalan, cuma letih tengok barang je la...hee..hee..hee...but it was fun for me...i do not know...
I pernah beli barang kat lelong, so far so good. Takde masalah, barang pun ok, cuma, next time tak nak beli beg lagi secara online, coz, tak sama macam spec. yang i expected it would be. But, i guess that is on my part la, not the seller. Well, then again, that's just me.
Sekarang ni dah ada
ubid
la..
mudah
la...but for now, bebila i rasa nak release tension, i akan masuk LELONG...ntahlah...it's just like my comfort zone or something.....bukan beli pun,,,tengok-tengok aje... la..la..la...la...